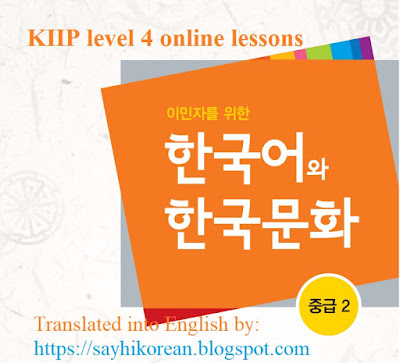 According to the KIIP book of Korea Immigration & Integration Program – Level 4 (이민자를 위한한국문화 한국어와 – 중급 2) (you can click here to download the textbook and audio file), there are total 20 units with 18 topics and 2 general practice lessons.
Say Hi Korean translated all from Korean into English for you all take an easier way to learn.
Note: In each lesson, you can click on 1 or 2 to listen the audio.
>YouTube link for listening practice of Level 4: Click here

Click on the links below to see the lessons in details.
1과 (Lesson 1) 결혼 Marriage: Click here
2과 (Lesson 2) 영화와 드라마 Movie and Drama: Click here
3과 (Lesson 3 )생활과 인터넷 Life and the Internet: Click here
4과 (Lesson 4) 가족의 변화 A Change in Families: Click here
5과 (Lesson 5) 한국의 교육 Korea's Educational System: Click here
6과 (Lesson 6) 문화 차이 Cultural Differences: Click here
7과 (Lesson 7) 직장 생활 Work Life: Click here
8과 (Lesson 8) 사건과 사고 Accidents and Incidents: Click here
9과 (Lesson 9) 한국의 경제 South Korea's Economy: Click here
10과 (Lesson 10) 종합 연습 1 General practice 1: Click here

11과 (Lesson 11) 신문과 방송 Newspapers and broadcasting: Click here
12과 (Lesson 12) 이민 생활 Immigration life: Click here
13과 (Lesson 13) 한국인의 사고방식 Mindset of Koreans: Click here
14과 (Lesson 14) 꿈과 미래 Dream and future: Click here
15과 (Lesson 15) 한국의 선거 South Korea's election: Click here
16과 (Lesson 16) 환경 보호 Environmental protection: Click here
17과 (Lesson 17) 한국의 명소와 유적지 – South Korea's tourist attractions and historical sites: Click here
18과 (Lesson 18) 인구 변화 – Population changes: Click here
19과 (Lesson 19) 법과 질서 Law and order: Click here
20과 (Lesson 20) 종합 연습 2 – General Practice 2: Click here
** Download sample test and practice tests of KIIP- level 4 final exam: Click here
** Facebook: Say Hi Korean (https://www.facebook.com/sayhitokorean)